Biennale Interieur 2016: Clever designtalent at JORI
For the silver edition of 'Interieur', the Belgian design Furniture company JORI striking work of talented international designers.
As such, JORI has reserved the international premiere of OSCAR, the latest creation of the Italian designer duo Pocci + Dondoli for 'Interieur'. New on 'Interieur' as well are: the 'fluffy' reclining chair RAPSODY, a design of the French designer Jean-Pierre Audebert, the WING DIVANBASE, a lowered version of the ultra convertible sofa WING of the Dutch designer Hugo de Ruiter, the elegant corner sofa LADY, a creation of the Swiss designer Cuno Frommherz, and finally PENTAGONO, the playful set of footstools and side tables of the Italian designer duo Pocci + Dondoli.
Moreover, JORI is setting the tone in Kortrijk with the professional version of its product configurator, a useful online tool that allows both the architect as end user to compose every furniture as desired. www.jori.com/nl/configurator

OSCARINI – Designer Pocci + Dondoli (IT)
They have a wonderful southern nonchalance and score with designs that surprise over and over again because of their outstanding elegance and discreet eye-catching details. JORI could not have wished for a better creative partner than the jovial Italian designer duo Pocci + Dondoli, who successfully continue the expansion of the new accessory range of the brand.
For 'Interieur", they have designed OSCARINI, a striking elegant chair with a clear Italian DNA, yet made in Belgium. A perfect-scoring Italian-Belgian association. Whether it is the dynamic alignment of the slender feet, or the refined tapered back, one thing is certain, OSCARINI is a chair that catches one's eyes with its extreme aesthetic form and appearance.
Just like the entire JORI collection, OSCARINI is made with craftsmanship in the JORI production workshops in Belgium. It was drawn with 1 back height, just high enough for sufficient back support without detracting the elegance of the model. The chair has soft cambered lines on the back and seat, which makes it very receptive. It is available without armrest and is stackable. The feet are available in epoxy bronze mat or black. The covering can be selected as desired from a vast colour range of quality leathers and fabrics. Recommended sales price: 600 EUR.
DESIGNER  : POCCI + DONDOLI (IT)
For Pocci+Dondoli design has to express beauty, harmony and freedom, as it can not be bound by strict established rules or exist as privilege of a social or cultural elite. The research on materials and processes, conceived to achieve maximum results in quality / price terms, is one of the main activities of the studio: they privilege materials that, through sophisticated processes, acquire nobility and elegance, such as aluminum and plastic, and other noble and antique materials like leather and hide. 
RAPSODY – Designer Jean-Pierre Audebert (F)
With the new RAPSODY, designer Jean-Pierre Audebert brings a contemporary cocoon version of the classic JORI reclining chair. The latest creation meets all expectations of the current reclining chair fanatic. Delightfully "fluffy" it looks temptingly cosy : as a comfortable shell, ideal for a comfortable rest after a hard day or for a power-nap. The soft pleats of the inner covering, finished in quality leather or fabric, contribute to the wellness factor of this enveloping reclining chair. Innovative as well is the manually sewed ornamental seam in the back part, a masterly example of JORI craftsmanship. With it's sober, modern look, the RAPSODY reclining chair integrates itself effortlessly into any style or interior.
Just like the entire JORI collection, the RAPSODY is made with craftsmanship at the JORI production site in Belgium, and it is available in a vast colour range of quality leathers and fabrics.  The reclining chair base can be changed as desired. The new model is temporarily only available with a mono-move mechanism (back and footstool synchronously adjustable). Recommended sales price : in fabric starting from 3.200 EUR, in leather from 3.600 EUR.
The 'JORI configurator' allows to compose the RAPSODY as wished.
DESIGNER JEAN-PIERRE AUDEBERT (F)
French interior designer, member of the renowned Paris 'Société des Artistes Décorateurs', an organisation which groups the crème de la crème of French designers, both in the areas of interior design and architecture. Graduated from the 'Ecole Boulle', Audebert earned his spurs with home interior projects and designs for financial institutions, public buildings and schools. He devised a range of different projects for the French High-Speed Train or TGV network.
WING DIVANBASE -  Designer Hugo De Ruiter (NL)
Thanks to its rotating elements, this transformable sofa can be adapted effortlessly to the mood of the moment: comfortably sitting, enjoying a nice lie-down, watching television or when even using it as a bed. After the very successful launch in 2015 of the WING 'open base', the new WING 'divan base' will be presented as a scoop on Salone del Mobile Milano. This shows by its high-quality finish how far-reaching the craftsmanship of JORI truly is. A masterly design: extremely easy to transform into 5 different interior experiences.
LADY – Designer Cuno Frommherz (CH)
Paragon of traditional knowhow, fits in both modern and classic interiors. Developed to sit and to chill blissfully stretched out, to hang or lie. After a hectic workday, we look forward to the serene, tranquilizing silence. To nestle as we like, and to fully load off the tension, JORI has created LADY. Thanks to the extending seat, you can both sit comfortably and blissfully chill out, to stretch and to hang. 
Moreover, the sofa can instantly be transformed into a guest bed. Sitting or lying with or without cushions. Cushions easily supporting your back thanks to their ingenious construction. The corner sofa stands out because of its low streamlined look and its details displaying traditional knowhow, such as the (optional) capitonné finish of the back. Lady integrates seamlessly into countless house types, styles and habits. The vast choice of cushions and accessories allow far-reaching individualization.
ICARUS LOUNGE – Designer Christophe Giraud (F) 
The new ICARUS LOUNGE CHAIR looks like a seductive hammock on base. Designer Christophe Giraud created the Icarus lounge as an aesthetic sculpture, that catches the eye with its natural and pure character. A refined luxurious 'hammock' on base, that easily integrates into nearly each interior: living room, office, library or bedroom. The height of the model is technically calculated so that the lounge position can be easily reached by everyone. Once settled down, it is striking how the shape of the ICARUS LOUNGE seems to embrace its user.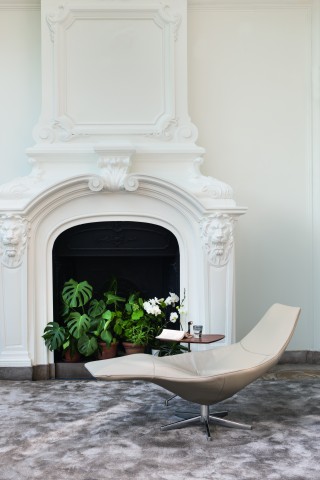 PENTAGONO – Designer Pocci + Dodoli (IT)
'PENTAGONO', the convenient set of footstools, side tables and basket is a clever creation of the Italian designer duo Pocci+Dondoli. They join the JORI accessory line, which was launched in 2015 to mark IMM Cologne. Footstools, side tables and baskets are currently trending. We increasingly long for a mobile and flexible interior, which allows us to tune the set-up of our interior to changing situations and living habits.
JORI eagerly responds to this and has called the Italian designer duo Pocci+Dondoli at its side to develop a programme of footstools, side tables and basket in different sizes. The footstool mainly had to look 'different'. Pocci+Dondoli have achieved this goal exceptionally well. The designer duo surprises with a remarkable design which is named 'PENTAGONO', after its regular pentagon form.
About JORI
Being an established value within the premium segment, the Belgian design furniture company JORI (www.jori.com) designs and develops since 1963 contemporary seating furniture, tables and interior accessories in cooperation with international top designers. The company has conquered a unique position on the international design furniture market.
For further information about JORI, don´t hesitate to contact:
Mrs Catherine Léonard, + 32 496 40 16 46, press@jori.com
JORI communication department, Linda Vermeesch, +32 56 31 35 01, vl@jori.com
Download the full article