Back to top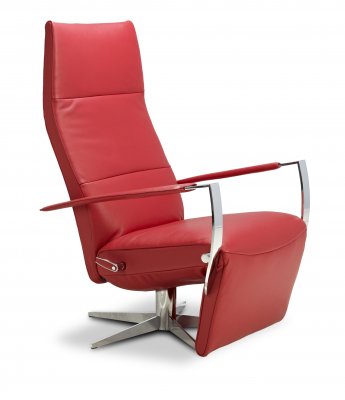 A recliner for genuine purists. The sleek lines leave nothing to the imagination. Its true comfort, exceptional support and spring armrests take every body to a place of subdued pleasure. Select your own position and experience a heavenly sensation of lightness.
With the Idaho mono move recliner, JORI has succeeded in grafting the design of the existing multi move recliner on the famous patented JORI recliner mechanism.
This project is based on the idea that when the consumer is attracted by a specific design, the 'product type' should no longer represent a barrier.
In other words, the design should be available in several technical versions. In this case both the stepless reclining mechanism and the asynchronous mechanism in which the footstool and back are adjustable separately, should be available.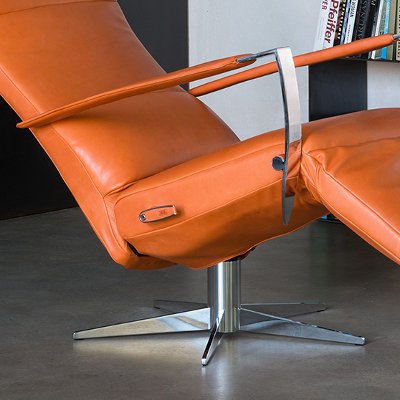 Sprung armrests enhance support in any position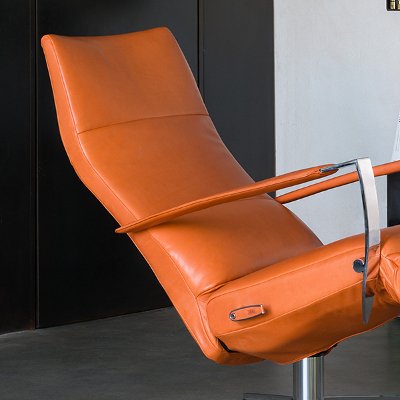 Integrated head rest delivers additional comfort
Jean-Pierre Audebert
A fast career in French design
It was in 1967 that Juan Jorion met Jean Pierre Audebert in Paris at the salon of the famous 'Société des Artistes Décorateurs', an organisation which groups the crème de la crème of French designers. Audebert presented a furniture collection for young children and also a range of office chairs. A close collaboration was born which contributed to the success story of JORI.
Jean-Pierre Audebert graduated from the Ecole Boulle, where he was also a professor at the beginning of his career. As an architect, he earned his stripes with interior projects for financial institutions, public buildings and schools. He also carried out several projects for the French High-Speed Train or TGV.
Reclining chair available in mono-move and multi-move.
Reclining chair available in 3 sizes : mini, medi and maxi. Only reclining chair medi available with seat height + 4 cm.
Available in leather or fabric.
With fabric covering, handle only in leather possible
Option : With fabric covering, armrests in leather of choice possible
Standard with integrated mobile head rest.
Choice armrests and bases : chrome high-gloss or lacquered in one of the JORI standard colours (see general info)
Choice between different bases.
Frame : steel mechanism.
JORI guarantees a maximum load up to 120 kg.
2D and 3D images for visualization are available on our website.
Seating furniture with removable covers (to be done by an industrial third party)