Raw Materials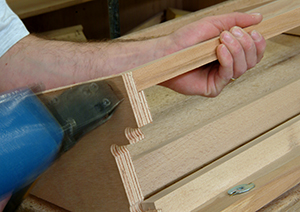 Durable comfort is incredibly important to the customer when it comes to seating.
In order to guarantee the combination, JORI uses only the best materials:
Quality bases from beech or metal
Beech
Its slow growing nature makes beech a hard and strong wood type with a long lifespan. The wood is dried at 14% relative humidity, which helps the wood to maintain its shape. Our bases have rounded edges so that the base cannot be felt and so as to avoid damage to leather or fabric or foam.
Metal
In line with aesthetic design of the models, the bases can also be made in metal, as is the case with our relax frames. As a consequence these meet most critical user standards. Metal frames are ideal for incorporation into all kinds of mechanism. 
Padding materials
It is not only the ergonomic construction, but also the padding materials that play an important role in ensuring optimal seating comfort. Maintaining resilience over time, even in the case of intensive use, is essential for durable top comfort. 
Cold cure foam is recognised by all experts as being the most durable and high quality padding material, which is why JORI has selected this sort of padding for use.
After 8 years, cold cure foam preserves still 80% of its elasticity. Other types of foam weaken to 20% of their elasticity.
Various layers of cold cure foam of various densities ensure optimal comfort and resilience. The foam has a lower density at the top in order to optimise the soft and supple feeling during first contact. Underneath this are layers of foam with a higher density to ensure that the seat offers optimal support and comfort during long periods of sitting.

Zigzag springs
Zigzag springs are high quality, steel, waved springs that are attached to the base of the seating component. Both beech and metal bases are fitted with these springs.
The significant advantage of zigzag springs : 
Durable enjoyment of top comfort and the same good feeling over the years are important factors. That is why JORI uses zigzag springs.
Equal dispersal of tension (machine attached) ensures ongoing resilience over time: steel springs do not sag over time.

Long lifespan, as they are made from steel.