The founder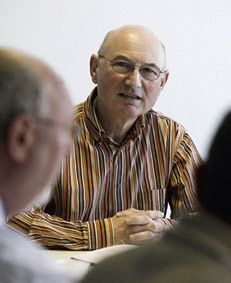 A passion for innovation
Watch out when you give your lighter to a man like Juan Jorion. If he gives it back to you, it will be in an "improved" version. If not, you'll get a totally new concept for lighting cigarettes.
Those are the things he does. Improve or innovate. And that is how he made JORI what it is today. One of the finest manufacturers of leather seats in the world. But don't call him a seating manufacturer, or he'll show you the West Flemish side of hell. He's much more than that.
"I see people make things, and I see they want to make it better. Then I give them the means and the courage to do so. That's all I do."
That's his key to improvement. Innovation is another story.
"Designers are creative people in the first place. You can't make them employees, because they need their freedom. But still you want them to innovate only for you. So I thought of something in between, that offers them both the freedom and the security. Every three months we come together with the same group of designers. We listen to their ideas and when there is one that sounds new enough, we develop it. That is how the famous JORI relax chair was created. But it isn't always a success. Sometimes those ideas cost me an arm and a leg. Sometimes it is profitable. But all of the time it is fun."
He's a happy man, this mister Juan Jorion from Wervik. He gives a lot of energy to his people and gets it all back in the shape of top quality leather seats. His philosophy? Don't take yourself seriously, others will do that for you.