Leather qualities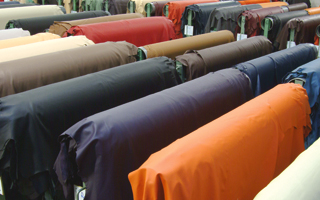 The right leather to suit any lifestyle
Sit down and enjoy the sensual smoothness of Xienda or Lotila. Feel the warmth and gentleness of Lipano. Admire the sturdy characters of Nodina, Fuerte, or Celia. Enjoy the refined aura of Konia or Larido.
Choose a leather quality and colour with the JORI leather tool
Leather class: pure natural leather 
Xienda
Grain pattern: natural, compact varied
Thickness: 2.2-2.4 mm
Pleasantly warm in winter, nicely fresh in summer
Xienda is a unique, high-grade natural leather which exudes warmth and a sense of nobility. A strong leather of 2.2 to 2.4 mm in thickness which owes its fine structure and gentle touch to the strict selection of skins and the specific tanning process these have been subjected to. Xienda leather breathes, taking on a very natural-looking patina as time goes on. A colourless protective coat has been added as the final finishing step to keep your leather seating furniture in supreme condition. Xienda is available in natural colours.
Lotila
Grain pattern: natural, varied, and fine/compact
Thickness: 1.7-1.9mm
You can still enjoy the charms of the wild
Lotila is a full grain leather which has an extremely natural feel and loses none of its natural charm. Thanks to the thin layer of micro-pigments on top of the leather surface, you can still enjoy its natural flexibility, smoothness, and warmth. The pores of the leather stay open: and so, in the course of time, a natural patina begins to form to give your furniture a unique character. Treat the valuable Lotila with the utmost care so that you can enjoy its light colour and structural connections for years to come.
Leather class: slightly pigmented leather 
Lipano
Grain pattern: natural, varied medium
Thickness: 1.5-1.7 mm
Seductive charm, unrivalled beauty
Lipano pairs user-friendliness, quality and utter beauty. A soft and supple nappa leather, Lipano exudes a particular charm. In looks, Lipano is all natural leather with a varied fine and medium grain structure and a 1.5 to 1.7 mm thickness. Thanks to its protective coat, the leather is allowed to fully retain its natural characteristics whilst being particularly user-friendly.
Leather class: pigmented leather 
Larido
Grain pattern: natural, very fine, uniform
Thickness: 1.4-1.6 mm
Infinite colour range, meeting your ultimate, specific whishes
Larido is a pigmented, dyed nappa leather with a natural appearance. Also because of the very fine grain pattern and a thickness of 1,3 to 1,5 mm, the leather feels pleasantly soft. Thanks to the solid pigment layer, Larido is extremely suitable for intensive use. The very typical colours (no less than 95!) complement the familiar JORI leather collection very well and give an answer to your most specific wishes.
Konia
Grain pattern: natural, fine, uniform
Thickness: 1.4-1.6 mm
Soft and sensual
Furniture upholstered in Konia leather is well-suited to be used intensively, whilst being budget-friendly and low on maintenance. Konia is a fine-grained nappa leather with a 1.4 to 1.6 mm thickness. Due to its fine and nicely even structure, the leather is pleasurably soft to the touch. Your leather-upholstered seating furniture is set to remain unaffected by intensive use thanks to its protective finishing coat.
Fuerte
Grain pattern: very coarse, designed, uniform
Thickness: 2.0-2.2 mm
Robust character for long-lasting comfort
The raw beauty of Fuerte means you can sit comfortably for years, even with intensive use. The leather is user-friendly and requires little maintenance, thanks to the sturdy protective layer. The thickness of 2 to 2.2mm provides a slightly more solid feel.
Celia
Grain pattern: medium, designed, uniform
Thickness: 1.4-1.6 mm
For intensive use and ease of maintenance
Furniture upholstered in Celia leather is well-suited to be used intensively, whilst being low on maintenance and easy on the budget. Celia is a medium-grain nappa leather available in a 1.4 to 1.6 mm thickness. A finishing print is responsible for the consistent appearance in structure. The leather's durable protective layer means it is well protected against the impact of dirt and damp.