Quality leather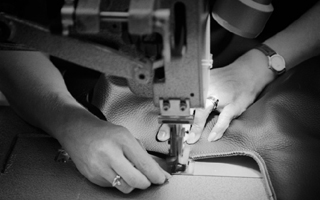 Quality leather, the essence of your seating comfort
Over forty years of experience and the love for our craft are what have made JORI into the leading leather experts we are today.
 JORI strictly uses top-grade European bull skins from Denmark, Italy, Austria and southern Germany. Each skin is handpicked and inspected to the strictest quality standards. Absolute quality is our stock in trade.
The very best of leather: bull hides
Compared to cow skin, leather made from bull skins is stronger, less elastic and retain its shape to better and more lasting effect. This is explained by the fact that the skin of cows tends to be more stretched and less sturdy due to calving. Which is why JORI chooses to use only strong and hardwearing bull skins.
The thicker the skin, the stronger and the more ravishing the leather
Each skin that is used for a piece of JORI seating furniture, is at least 1.4 mm in thickness. This may not seem much, but rest assured : for a piece of leather-upholstered seating furniture, this is particularly firm. It serves to make the leather tear-resistant whilst lending it superior quality, making it fuller to the touch. A thick skin moreover allows for optimal finishing.
No excessive seams thanks to larger hides
European bull skins are larger than hides from other parts of the world. Average European bull skins are around 5 m². For sofas in particular, it is important to have large-size surfaces. As such, the way in which the skin is finished requires less seams, which means your seating furniture gains in elegance.